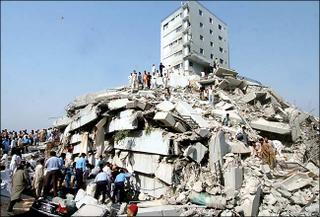 Scaree news to start the day.
News of a 7.6 magnitude earthquake in Islamabad and Rawalpindi.
Extending to New Delhi in India, Sri Nagar in Kashmir, Peshawar and Lahore in Pakistan.
Listening to Geo Tv's audio streaming on the web I wonder and pray for the safety of everyone.
experts say it could have been and would be better if its a defocussed quake, with major seismic activity deep underground and few tremors reaching up, thus lessening chances of damage and casualties.
Reports also say that people are in a panic and out of their homes since morning.
With no access to TV and without actual footage of the happenings I am quite worked up too.
At teh same time I wonder if all this makes for such good TV, would the media cash in on the panic, as is their wont and whip up a quake frenzy? Exaggerate?
Please pray for Saadat and Ajmal Sb. And everyone else.

Updates in comments and updated pic at 12:15 pm.